Details

Blooee, the intergalactic gamer, has finally found his way to Deskr after traversing countless galaxies in search of the perfect gaming setup. However, on his journey to Earth, he got lost in space. Help Blooee find his way back home by adding a touch of space to your setup with our stunning new deskpad.

Featuring our innovative HD Series™️ material, this deskpad offers a range of benefits that will help you work and game more effectively and comfortably. The Smoother Glide feature of our HD Series™️ material ensures that your mouse moves effortlessly across the surface of the deskpad, providing you with the precision and accuracy you need to dominate your favorite games.

The Softer Finish feature of the HD Series™️ material provides a cushioned surface that feels soft and comfortable to the touch, reducing fatigue and allowing you to work and game for longer periods without discomfort. With its space-themed design, this deskpad will transport you to another world, making it perfect for gamers and space enthusiasts alike.

The more Vibrant Look feature of our HD Series™️ material ensures that your deskpad will make a bold statement. The colors and designs are more vibrant and eye-catching, which will make your workspace or gaming setup look more stylish and sophisticated.

Our space-themed deskpad is a must-have for anyone who loves gaming and the mysteries of the universe. With its high-quality HD Series™️ material and stunning design, it will help you stay focused and motivated while providing a touch of intergalactic flair to your workspace. Plus, by bringing Blooee back to Deskr, you'll be helping to ensure that the gaming universe stays in balance.

Specification

Color:


Shades of Black, Gray, and Blue

Size:


900 x 400 x 4mm (35.43

x 15.75 x 0.15 in)

Includes:

Branded Deskpad Sleeve Bag
Custom Branded Packaging

Blue Circle Logo Sticker

Features:


HD Series™️

material

Soft & Smooth Polyester (Top)
Anti-Slip & Eco-Friendly Rubber (Bottom)
Premium Stitched Edges (Print over Design)
Machine Washable (Cold, Low Tumble)
Dye Sublimated Print for Long Lasting Quality
Shipping

Orders ship out within one business day. Holidays may add additional shipping and handling time.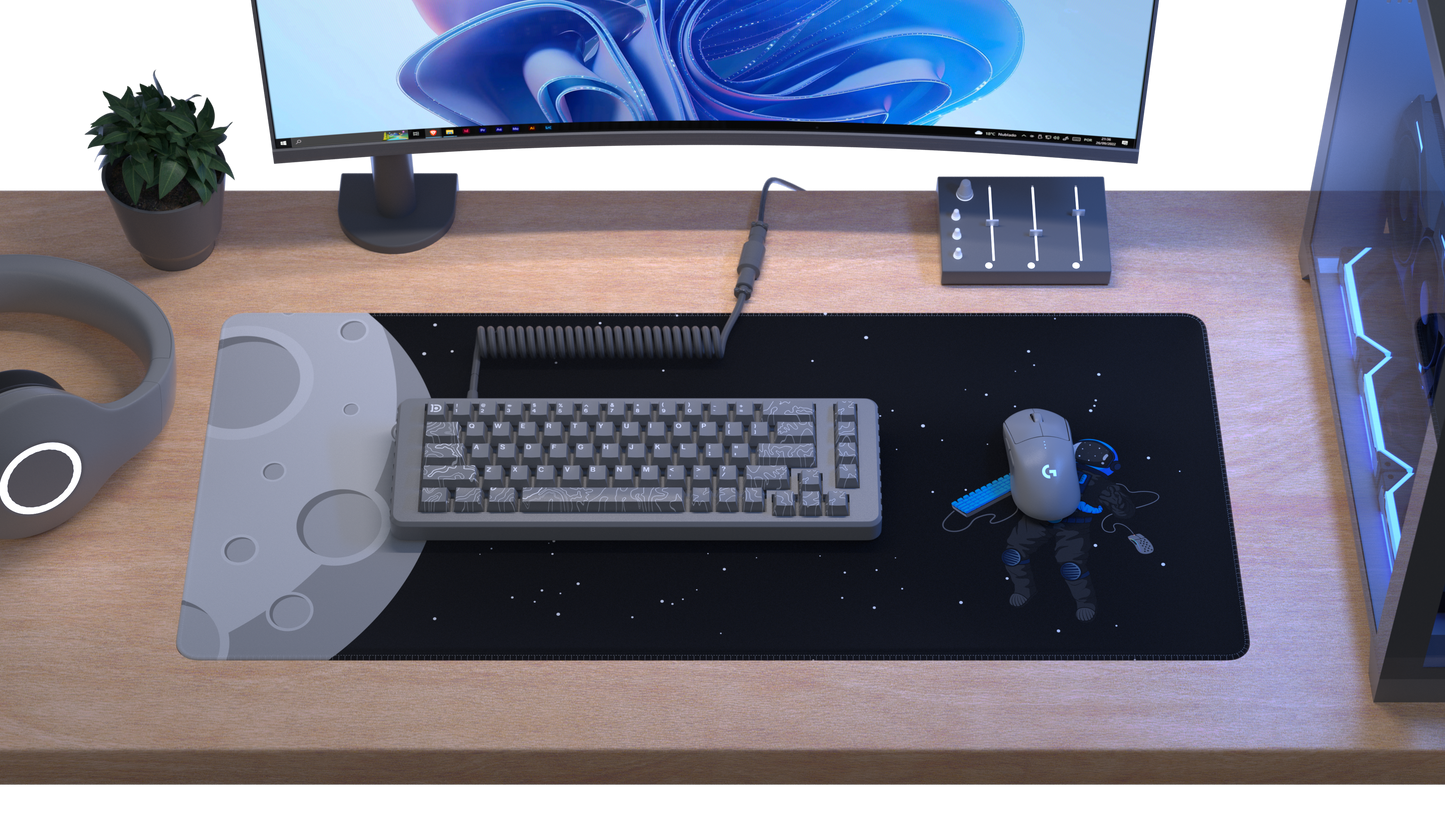 Featuring anti-slip rubber

High density material

Soft & Smooth texture
Premium and vibrant
Comfort and quality ergo
Black space mousepad🐐
Amazing quality and fast shipping
Dark Space Desk Pad
I purchased this item as a gift. The recipient is very happy with this desk pad of outer space.
Worth it
Started seeing their ads on instagram and at first i said why do i need a new desk mat for i already have one. But man am i glad i pulled the trigger and bought one. To start off their design are amazing whoever design the "Dark Space Deskpad" needs a raise. Also packaging is nice they really take their time to make sure you have a great experience and the quality of the deskpad its self its out of this world. The grip texture on the bottom also stick great this thing does not move at all. Overall glad i bought and you should too.
Hello Jonathon,
Thank you for leaving such an awesome review. We appreciate you taking out the time to review our deskpad, and we're glad you loved the design!
Best,
Saif M.
Amazing!
My experience ordering from DESKR was awesome. The desk mat I originally wanted to buy for my boyfriend was sold out but they emailed me when it was back in stock. The quality of it is awesome, and bigger than I thought!
Space desk pad
Love the new desk pad, way better than my old tiny and boring mouse pad. 10/10 !