Details

Bring the stunning beauty of Napa Valley, CA, to your workspace with our Mt. Balloon deskpad. Inspired by the scenic views of the valley, this deskpad offers a much-needed escape from the daily grind.

Our Mt. Balloon design features a breathtaking landscape that captures the essence of the valley's charm. The muted gray tones provide a soothing and relaxing atmosphere, making it perfect for those who need a calming workspace.

With our new HD Series™️ material, you'll enjoy a smoother glide, softer finish, and more vibrant look than ever before. The high-quality material ensures that your deskpad will last for a long time while providing a comfortable and luxurious feel.

Whether you're working from home or in the office, the Mt. Balloon deskpad is an excellent addition to your workspace. So why not invest in a deskpad that will give you a much-needed getaway without breaking the bank? Order your Mt. Balloon deskpad today and let the beauty of Napa Valley inspire you.

Specification

Color:

Shades of black and white

Size:


900 x 400 x 4mm (35.43

x 15.75 x 0.15 in)

Includes:

Branded Deskpad Sleeve Bag
Custom Branded Packaging

Blue Circle Logo Sticker

Features:


HD Series™️

material

Soft & Smooth Polyester (Top)
Anti-Slip & Eco-Friendly Rubber (Bottom)
Premium Stitched Edges (Print over Design)
Machine Washable (Cold, Low Tumble)
Dye Sublimated Print for Long Lasting Quality
Shipping

Orders ship out within one business day. Holidays may add additional shipping and handling time.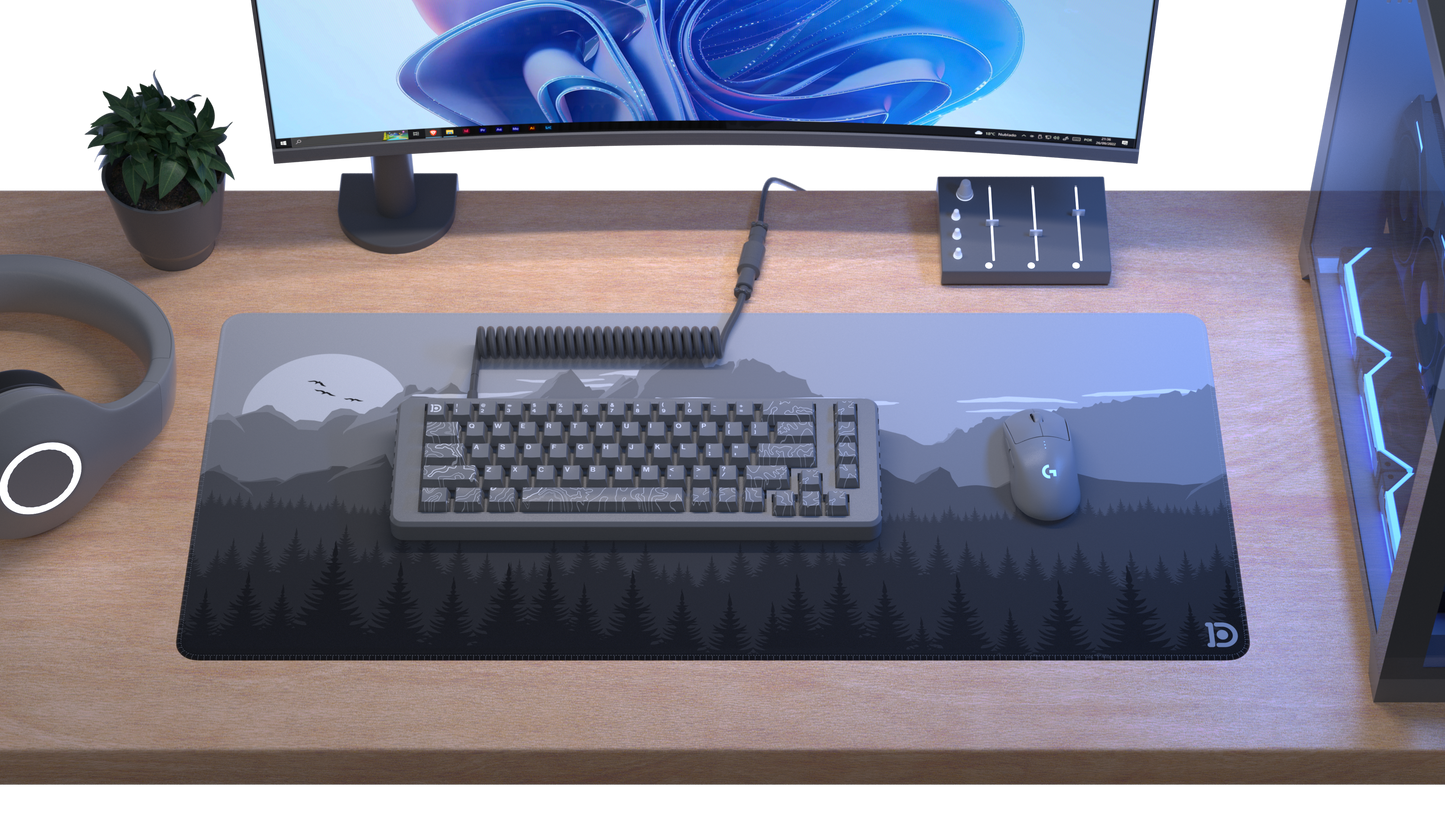 Featuring anti-slip rubber

High density material

Soft & Smooth texture
Premium and vibrant
Comfort and quality ergo
Great customer service and great pad
Son wanted the mist grey desk pad. I saw a reduced cost shipping option and decided I would get it. The pad is fantastic high quality comfy feel and well made. Shipping was an issue but customer services sorted the issue as fast as possible still wish you had a dealer and stock held in the uk 😉
Hello Edward,
Glad we got your son his deskpad, and I appreciate the kind words. We hope to be aiming for the best service possible and we will try to do something about fulfillment in the UK
Best,
Saif M.
Amazing Quality
I just received this desk mat a few days ago and I love how great it feels. So smooth. And the quality is very nice. I had seen them on Tik Tok and decided to give it a shot. Would highly recommend to anyone.
Didn't receive the design that I requested
I opened the packaging for my brothers gift and was disappointed to see that the desk mat I order for him didn't come with the design I ordered for, it came as a blank black mat. Thankfully my brother was okay with the mat without the design, still a great mat that he was thankful to receive.
Hey Robert,
I apologize you received the wrong deskpad. Mistakes can happen on our end but we always look to fix them. Please email Support@Deskr.co and we will get you the correct deskpad. Due to our mistakes you can keep the deskpad you have right now.
Best,
Saif
Amazing Customer Service & Product
Ordered the topograph keycaps and shortly figured out they were only compatible with Cherry MX switches. Reached out to customer service and was taken very good care of by Nabeez, all of my questions were answered and they were very congenial and genuine toward me. Ended up still getting the "Mist" deskpad which looks astonishingly beautiful!!
Shipping disaster
Item is fantastic, shipping was awful. I was made to pay $9 for shipping. The 2-3 day shipping was a couple cents more. Either way, the item took two and a half weeks to arrive. Either don't charge for shipping or actually get the item there on time.
Hello Nicholas,
Thank you for your review and we apologize for the inconvenience you faced with shipping and delivery. Unfortunately that is not something we control, and we do offer expedited options on checkout. We're sorry for the delays and we hope you enjoy your product!
Best,
Saif M.