Our most popular design, the Topograph Canyon, featuring the Colorado River that runs through the Grand Canyon.
View full details
Details

The Topograph Canyon large deskpad is a stunning and one-of-a-kind design that flawlessly captures the Grand Canyon's beauty and majesty. It is part of the Topography Collection by Deskr, a business known for its dedication to producing high-quality products.

The deskpad is meticulously designed, depicting the Colorado River as it makes its way through the canyon. The thick vein running from top to bottom of the deskpad represents the river, while the other lines reflect the canyon's various elevations.

The substance of the Topograph Canyon deskpad is one of its most notable features. It is constructed with Deskr's most recent HD Series™️ material, which is a substantial improvement over previous materials. The substance has an improved glide, making it easy to move your mouse around the deskpad. It also has a softer finish, making it more comfortable to use for extended amounts of time. Furthermore, the material has a more vibrant appearance, which indicates that the design's colors are more vivid and eye-catching.

The Topograph Canyon deskpad is both a functional and aesthetically pleasing addition to your workplace. The design is both eye-catching and sophisticated, making it ideal for anyone looking to add a touch of class to their workplace. This deskpad is ideal for anyone who wants to make their workplace look more stylish, whether they are an artist, a designer, a gamer, or simply someone who wants to make their workspace look more stylish.
Specification

Color:


Black Background, White Accents

Size:


900 x 400 x 4mm (35.43

x 15.75 x 0.15 in)

Includes:

Branded Deskpad Sleeve Bag
Custom Branded Packaging

Blue Circle Logo Sticker

Features:


HD Series

™️

material

Soft & Smooth Polyester (Top)
Anti-Slip & Eco-Friendly Rubber (Bottom)
Premium Stitched Edges (Print over Design)
Machine Washable (Cold, Low Tumble)
Dye Sublimated Print for Long Lasting Quality
Shipping

Orders ship out within one business day. Holidays may add additional shipping and handling time.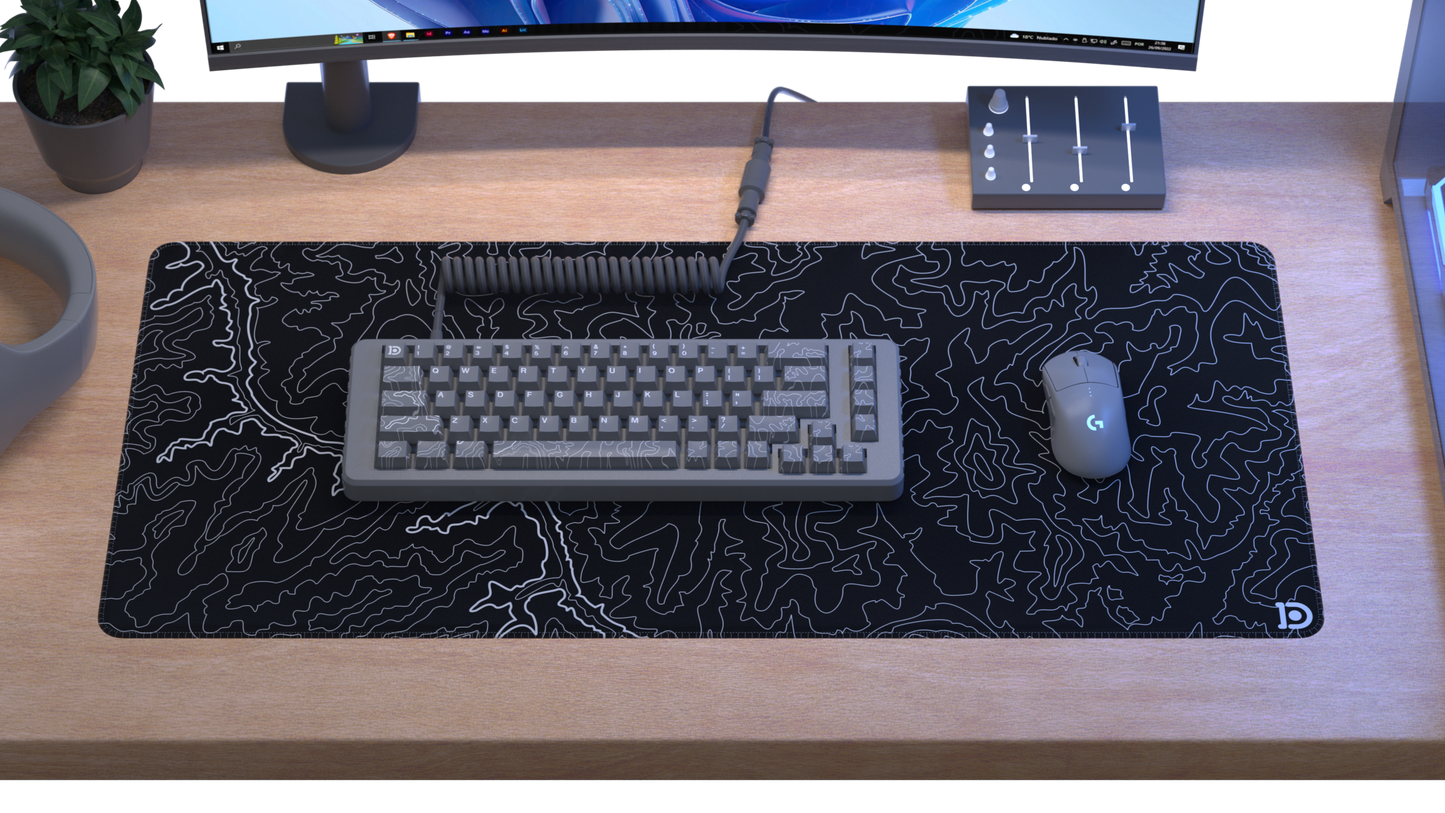 Featuring anti-slip rubber

High density material

Soft & Smooth texture
Premium and vibrant
Comfort and quality ergo
Awesome
This is the second time I have bought this mousepad and I do not regret it! It is the design I was looking for for my setup :D
Hey Dylan,
Glad you liked it and I love the setup!
Best,
Saif
Black Topo Mousepad
Very nice, not too big or small. This was my first time getting a deskpad for my new monitor. I really liked the topo design on this one regarding to other companies like higround. Took a couple days to ship but it wasn't too long. Thanks.
Really good
I bought this product after watching the tiktoks and hearing all the positive comments and its truly a high quality mouse pad! But one problem i have is that is not necessarily black but its more of a very dark gray..: but other than than that its really good
Purchased As A Gift
Purchased two and gave them as a birthday gifts to a game loving guy who will sit at his keyboard for hours if I let him. He loves it! We own our own business and he has even suggested getting some made with our logo on it to give away to customers around the holiday season.