Details

Introducing the Keypad: Elevate Your Typing Experience, Protect Your Desk, and Add Depth to Your Keyboard Sound!

Are you tired of the same old bland mousepads that do nothing more than occupy space on your desk? Enter the Keypad, a revolutionary mousepad designed to enhance your typing experience, protect your desktop, and deliver a symphony of sound with every keystroke. Crafted for those who value performance, style, and innovation, the Keypad is available in three convenient sizes and three stunning colorways, making it the perfect addition to any setup.

Size Matters:

The Keypad comes in three distinct sizes tailored to your keyboard preferences. Whether you're rocking a compact 60% keyboard, a versatile 65% layout, or a robust 75%/TKL setup, we've got you covered. Say goodbye to oversized mousepads that hog your desk space. The Keypad is all about providing precision and protection without unnecessary bulk.

Sound Depth & Clarity:

Typing is an art form, and the Keypad is your conductor's baton. The micro-textured surface of this mousepad isn't just about smooth gliding for your mouse; it's engineered to enhance the sound of your keystrokes. Every tap resonates with depth and clarity, transforming your typing experience into a satisfying symphony of clicks and clacks.

Desk Protection:

We understand the importance of keeping your desk in pristine condition. The Keypad acts as a reliable barrier, shielding your beloved desktop from scratches, spills, and wear and tear. No more worries about accidental slips or coffee mishaps. Your workspace will stay as flawless as your keystrokes.

Style Meets Function:

Express your personality with the Keypad's striking color options. Choose from a variety of three unique colorways for each size, allowing you to match your mousepad to your setup or make it a statement piece. Whether you prefer the classic elegance of Midnight Black, the vibrant energy of Electric Blue, or the minimalist charm of Lunar Gray, there's a Keypad for every style.

Durability & Performance:

Built to withstand the test of time, the Keypad features a high-quality anti-fray stitched edge that ensures longevity. The non-slip rubber base keeps it securely in place, even during intense gaming sessions or extended typing marathons. This mousepad is designed for peak performance and unmatched durability.

Upgrade your desk setup with the Keypad, where innovation meets aesthetics. Elevate your typing experience, protect your workspace, and immerse yourself in the soothing sounds of precise keystrokes. Choose the Keypad that suits your keyboard size and personal style, and take the first step towards a more comfortable and enjoyable computing experience.

Order your Keypad today and let your keyboard sing like never before, all while safeguarding your desktop in style. Experience the difference with Keypad – where form, function, and flair converge for a typing experience like no other.
Specification

Size:


60%: 320 x 132 x 5mm

65%: 350 x 136 x 5mm


75%/TKL: 394 x 160 x 5mm

Includes:

Keypad
Blue Circle Logo Sticker

Features:


HD Series

™️

material

Soft & Smooth Polyester (Top)
Anti-Slip & Eco-Friendly Rubber (Bottom)
Premium Stitched Edges (Print over Design)
Machine Washable (Cold, Low Tumble)
Dye Sublimated Print for Long Lasting Quality
Shipping

Orders ship out within one business day. Holidays may add additional shipping and handling time.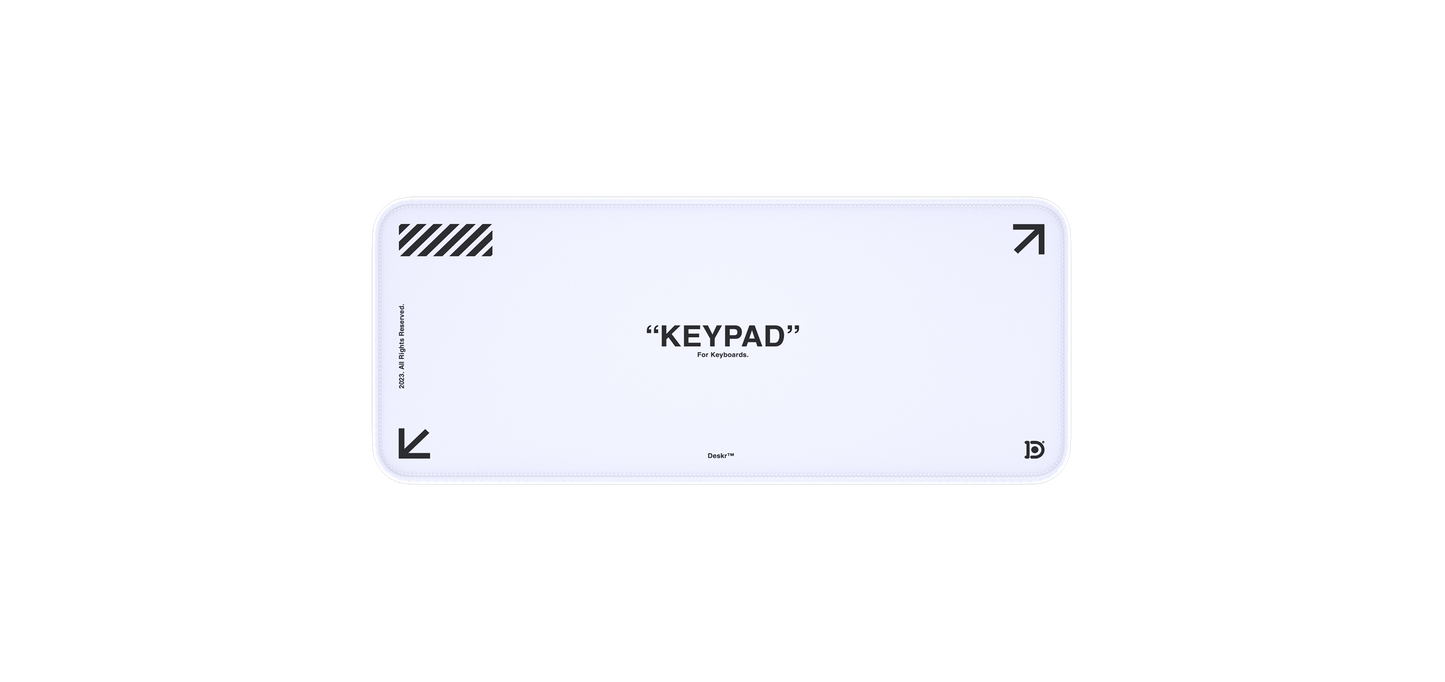 Featuring anti-slip rubber

High density material

Soft & Smooth texture
Premium and vibrant
Comfort and quality ergo