Details

Escape to the breathtaking vistas of Napa Valley, CA with our Mt. Balloon deskpad. Inspired by the stunning landscapes and vistas of this iconic wine-growing region, this deskpad is the perfect way to transport yourself to a place of relaxation and inspiration, without ever leaving your desk.

Featuring our innovative HD Series™️ material, this deskpad offers a range of benefits that will help you work more effectively and comfortably. The Smoother Glide feature of our HD Series™️ material ensures that your mouse moves effortlessly across the surface of the deskpad, making it ideal for gamers, designers, and anyone who needs precise and accurate movements.

The Softer Finish feature of the HD Series™️ material provides a comfortable surface for you to work on, reducing fatigue and allowing you to work for longer periods without discomfort. Whether you're typing up reports, sketching out ideas, or playing your favorite game, this deskpad will provide a cushioned surface that feels soft and luxurious to the touch.

The more Vibrant Look feature of our HD Series™️ material ensures that your Mt. Balloon deskpad will stand out from the crowd. The colors and designs are more vibrant and eye-catching, which will make your workspace look more stylish and sophisticated.

Our Mt. Balloon deskpad is a must-have for anyone who loves the beauty of nature and wants to bring a touch of the outdoors into their workspace. With its high-quality HD Series™️ material and stunning design, it will help you stay focused and motivated while providing a visual escape to the stunning vistas of Napa Valley. Say goodbye to those expensive vacations and bring the beauty of nature right to your desk!

Specification

Color:

Shades of orange and brown

Size:


900 x 400 x 4mm (35.43

x 15.75 x 0.15 in)

Includes:

Branded Deskpad Sleeve Bag
Custom Branded Packaging

Blue Circle Logo Sticker

Features:


HD Series™️

material

Soft & Smooth Polyester (Top)
Anti-Slip & Eco-Friendly Rubber (Bottom)
Premium Stitched Edges (Print over Design)
Machine Washable (Cold, Low Tumble)
Dye Sublimated Print for Long Lasting Quality
Shipping

Orders ship out within one business day. Holidays may add additional shipping and handling time.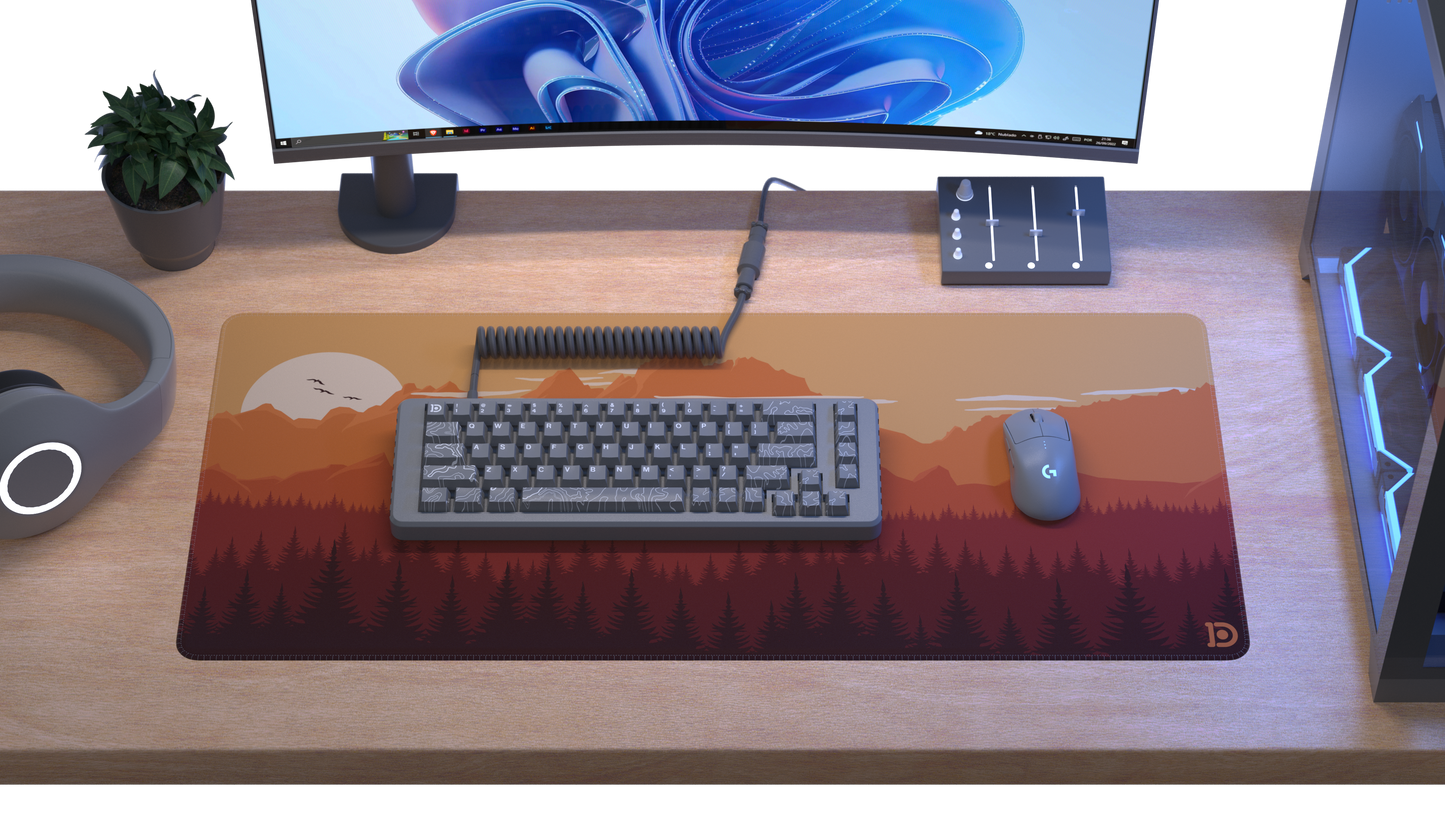 Featuring anti-slip rubber

High density material

Soft & Smooth texture
Premium and vibrant
Comfort and quality ergo
DAWN DESKPAD
These Desk pads are very durable and easy to clean. This is a good thing because my cat loves them as well.
Hey Talayeh,
Your setup looks amazing! Glad one of our products can be part of it :)
Best,
Saif
Excellent feel, fraying stitching
The deskpad is a really good thickness and feels excellent. Unfortunately one side of the deskpad has some fraying stitching straight from the package.
Hey Ottomar,
Thank you for sharing a picture of your setup and leaving your feedback! Sorry to hear about the frayed stitching. Please email Support@Deskr.co and we can help with a quick fix :)
Best,
Saif
Looks Fantastic
Got this as a gift and I'm very impressed.
Best Deskpad I've Owned
I've gone through two other deskpads before I got this one and by far this is the best one. I had some issues with my other deskpads where they would wrinkle up after one wash, but I've had no problems whatsoever. I find that this deskpad lightens up my workspace with its aesthetically pleasing design.