Details

Introducing our latest deskpad design, the Saturn V. This design is inspired by our hometown of Space City, TX (Clear Lake, TX), and pays homage to the iconic Saturn V rocket that sits in Rocket Park at the NASA Johnson Space Center. The Saturn V rocket is a true testament to the history of space-flight engineering, having assisted in several Apollo missions and continues to inspire generations to this day.

Our white themed Saturn V deskpad is the perfect addition to any space enthusiast's workspace. It features our innovative HD Series™️ material, providing you with the ultimate comfort and precision while you work or game. The Smoother Glide feature of the HD Series™️ material ensures that your mouse moves smoothly across the surface, allowing you to work and game with ease. The Softer Finish feature of the material also provides a soft and cushioned surface, reducing fatigue and allowing you to work for longer periods without discomfort.

But what really sets the Saturn V deskpad apart is its stunning design. The white color theme creates a sleek and modern look that will complement any workspace, while the Saturn V rocket design adds a touch of nostalgia and inspiration to your setup. The design also features our innovative HD Series™️ material that provides a more vibrant look to the graphic, making the Saturn V rocket pop off the deskpad.

This Saturn V deskpad is a perfect addition to any workspace, not only for space enthusiasts but also for anyone who wants a sleek and modern deskpad with a touch of inspiration. With our innovative HD Series™️ material and stunning design, this deskpad provides the ultimate comfort and precision, allowing you to work and game in style. Get your hands on the Saturn V deskpad today and take the first step in creating your ultimate workspace.

Specification

Colors:


White background, Black Accents, White Stitching

Size:


900 x 400 x 4mm (35.43

x 15.75 x 0.15 in)

Includes:

Branded Deskpad Sleeve Bag
Custom Branded Packaging

Blue Circle Logo Sticker

Features:


HD Series™️

material

Soft & Smooth Polyester (Top)
Anti-Slip & Eco-Friendly Rubber (Bottom)
Premium Stitched Edges (Print over Design)
Machine Washable (Cold, Low Tumble)
Dye Sublimated Print for Long Lasting Quality
Shipping

Orders ship out in one business day. Holidays may add additional shipping and handling time.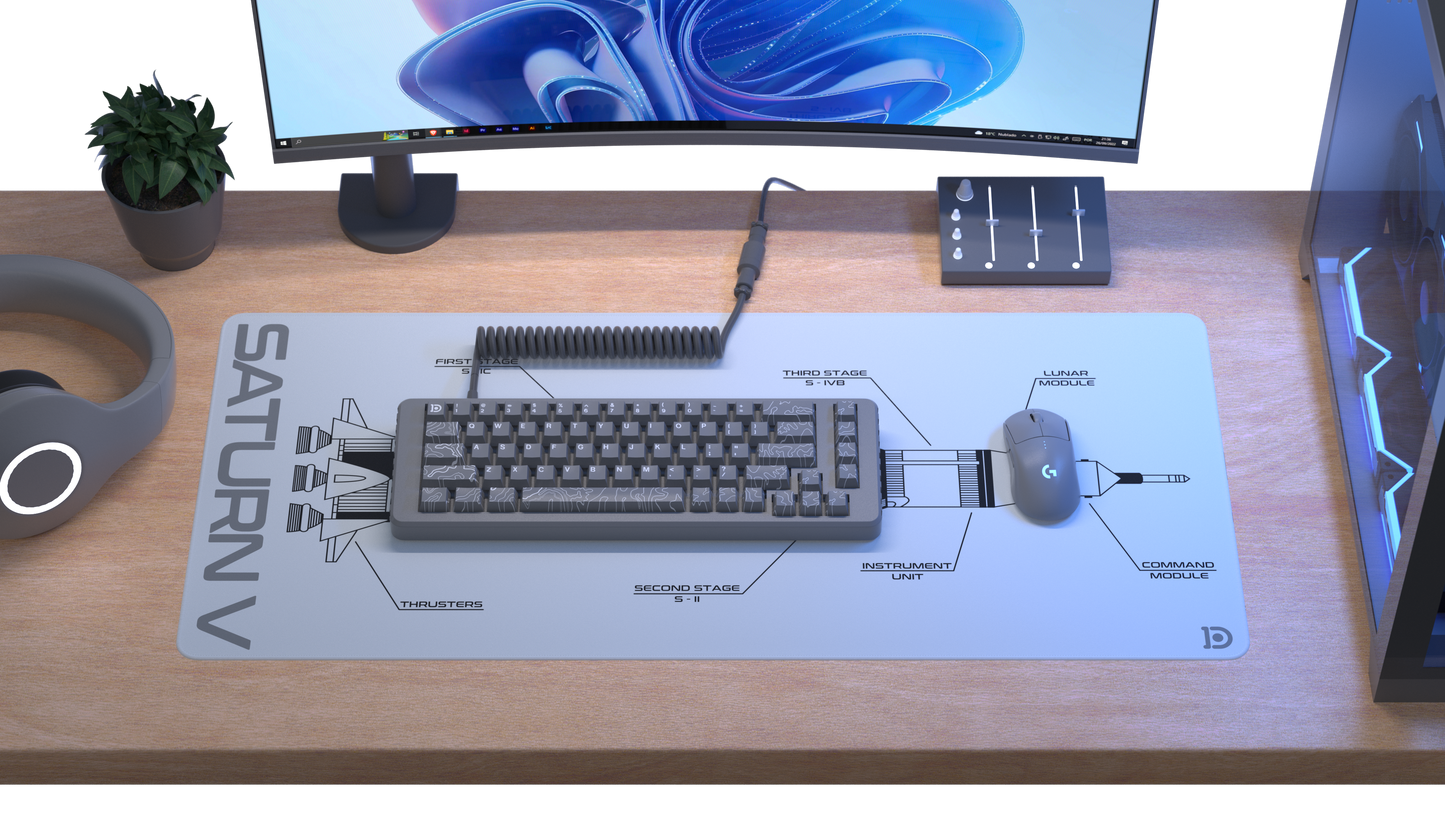 Featuring anti-slip rubber

High density material

Soft & Smooth texture
Premium and vibrant
Comfort and quality ergo
Perfect for the office
Nice crisp graphics, mouse glides well on the material, overall very happy. Shipping was quick and packaging was solid
Best fricking deskpad ever used.
I bought the Saturn V deskpad. I was completly suprused about the quality. This deskpad has stitched edges, a 4k design, and a super slippery surface for ultimate gaming. You can get these qualities at Razer, but for a higher price, no stitched edges, less slip, and no design. This is overall a really good deskpad. Thank you so much DeskR.
Saturn V Deskpad Review
Deskr did a really good job with this one. I wouldn't buy if you have a large desk but if you have the space it's a perfect addition for anyone's setup. The white makes it susceptible to stains/dirt. But the quality of the material is good and it handles my hot gaming laptop with ease
Awesome Mousepad!
This mousepad is amazing! Goes so well with my setup and is a super nice materiel! Highly recommend!
NASA Nerd :D
Love the desk pad of NASA' S Saturn V! Great material and it's pretty big too! Wasn't expecting that at all. Will definitely buy more in the future!