Details

Experience a touch of nature in your workspace with our latest Lily Pad Collection. Designed to bring a serene and refreshing vibe to your desk, our Lily Pad deskpads come in two options - swampy and clear waters.

Choose the swampy version to create a lush and green environment around your keyboard and mouse, evoking the feeling of a peaceful pond in a forest. The clear waters version, on the other hand, gives your setup a crystal-clear and tranquil ambiance, mimicking the sight of a calm lake.

Both options feature intricate designs of water lilies and leaves that add a natural touch to your workspace. The Lily Pad collection is not only visually appealing but also practical, providing a smooth and soft surface for your mouse and keyboard to glide over, thanks to our new HD Series™️ material.

With the Lily Pad collection, transform your workspace into a calm and refreshing oasis without having to leave your desk. Embrace nature and bring some depth to your setup with the Lily Pad collection from Deskr.

Specification

Color:

Light Blue water, light green lily pads and white flowers

Size:


900 x 400 x 4mm (35.43

x 15.75 x 0.15 in)

Includes:

Branded Deskpad Sleeve Bag
Custom Branded Packaging

Blue Circle Logo Sticker

Features:


HD Series™️

material

Soft & Smooth Polyester (Top)
Anti-Slip & Eco-Friendly Rubber (Bottom)
Premium Stitched Edges (Print over Design)
Machine Washable (Cold, Low Tumble)
Dye Sublimated Print for Long Lasting Quality
Shipping

Orders ship out within one business day. Holidays may add additional shipping and handling time.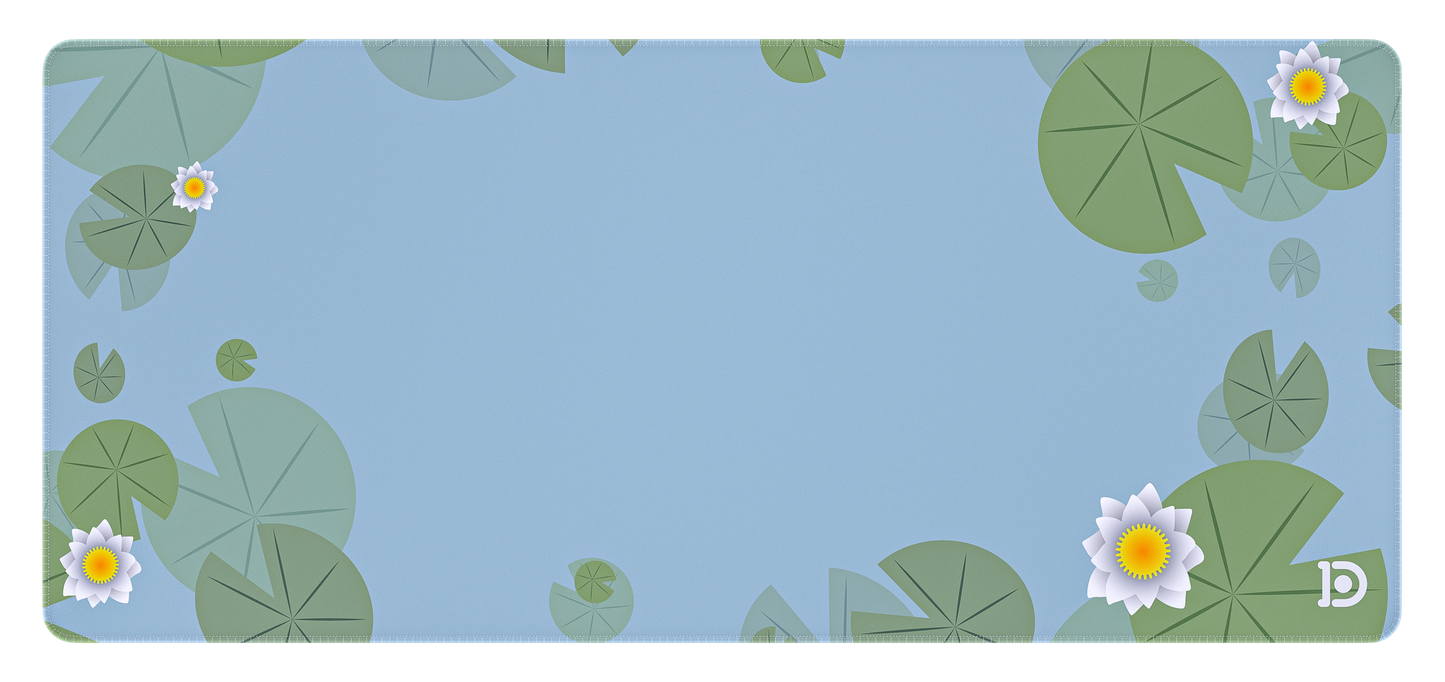 Featuring anti-slip rubber

High density material

Soft & Smooth texture
Premium and vibrant
Comfort and quality ergo
Amazing products!
Got one for my girlfriend and one for myself and we couldn't be happier! We will definitely continue to shop for deskpads on this store again!
Large, smooth, comfortable mousepad
I ordered the Lily Pad mat and received it as expected after 3 days. Packaging is nice and wasn't damaged. The mat as a whole feels durable and wasn't warped or stretched so it lays perfectly flat as expected. I went from an old, solid black mat I'd had for 2 years, and I could without a doubt tell the difference in quality of materials, and the design blew me out of the water. Brings my PC setup to a whole new level and really made it feel like mine. Gone are the days of boring mouse mats and uninspired solid black builds.
Awesome!
The deskmat was bigger than I thought!! Perfect for gaming 10/10
10/10 product, would recommend.
River desk pad is really great!
I recently got a new laptop (my first in 10 years!) and wanted to get a few new items for my desk around the Monet Water Lilies theme. I've always used cheap placemats as a desk pad and decided to treat myself to a proper desk pad. There are so many choices and designs but this one fit my chosen theme and was a size that fit my desk. The pad itself is slightly padded and has the non-slip rubber backing. It hasn't shifted at all on my wood desk top. It works really well with my wireless mouse which is great for me!
Sadly I had spilled water on my brand new desk pad and it was easy to clean up and hasn't left any weird water stain which is a definite relief. Also the stitching on the edges is tidy without stray threads and blends pretty well with the river pad design. I'm really happy with the desk pad! I wish I had room to buy the marsh pad design too!
Hey Amber,
Congrats on the new laptop! Really appreciate your detailed review. We're glad to have our deskpad part of your new setup. :)
Best,
Nabeez