Our most popular design, the Topograph Canyon, featuring the Colorado River that runs through the Grand Canyon.
View full details
Details

Introducing our best-selling design, the White Topograph Canyon Desk Mouse Pad - a stunning addition to your workspace. Inspired by the natural beauty of the American West, this deskpad showcases the Colorado River as it winds through the majestic Grand Canyon.

Part of our exclusive Topography Collection, the White Topograph Canyon Desk Mouse Pad combines artistry and functionality. Its thick vein, representing the Colorado River, runs seamlessly from top to bottom, while the intricately designed lines depict the diverse elevations of the Grand Canyon.

At Deskr, we take immense pride in crafting high-quality products that surpass expectations, and the White Topograph Canyon Desk Mouse Pad is no exception. Engineered with our innovative HD Series™️ material, this mouse pad offers a smoother glide, a softer finish, and a more vibrant look.

Elevate your workspace with this exquisite mouse pad that doubles as a deskpad. Immerse yourself in the breathtaking beauty of the American West every day. Upgrade your desk setup with the White Topograph Canyon Desk Mouse Pad and discover a new level of productivity and style.
Specification

Colors:

White Background, Black Accents

Size:


900 x 400 x 4mm (35.43

x 15.75 x 0.15 in)

Includes:

Branded Deskpad Sleeve Bag
Custom Branded Packaging

Blue Circle Logo Sticker

Features:


HD Series™️

material

Soft & Smooth Polyester (Top)
Anti-Slip & Eco-Friendly Rubber (Bottom)
Premium Stitched Edges (Print over Design)
Machine Washable (Cold, Low Tumble)
Dye Sublimated Print for Long Lasting Quality
Shipping

Orders ship out within one business day. Holidays may add additional shipping and handling time.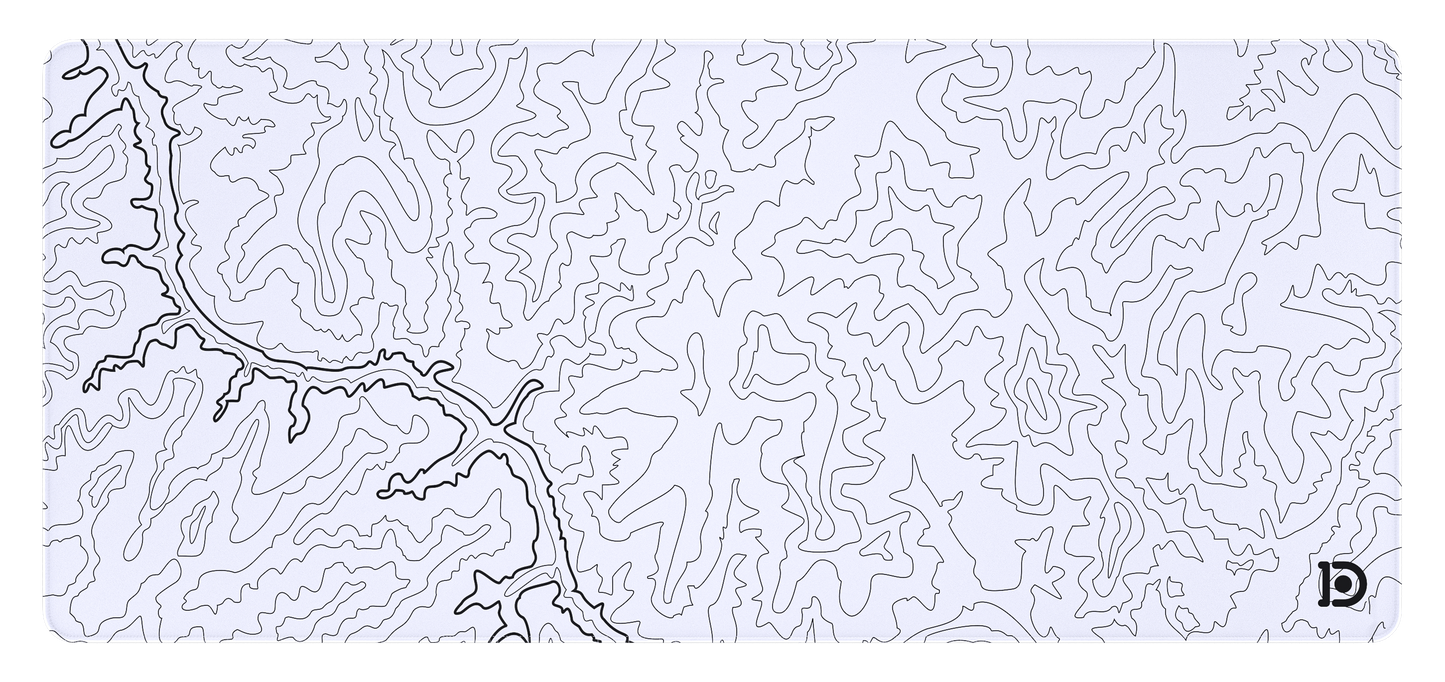 Featuring anti-slip rubber

High density material

Soft & Smooth texture
Premium and vibrant
Comfort and quality ergo
Great mousepad
I ordered this mousepad a while ago and got it home. It looks amazing and it is so soft. My mouse glides over it super smooth and I am super satisfied with the product and its easy worth the money. Thank you very much Deskr for your amazing product!🙌
Hello Delil!
Thank you for leaving such an awesome review. I'm glad you're enjoying your mousepad and thank you for the kind words :)
Best,
Saif M.
Quality!
Just built my new PC and having a deskr mat was an absolute MUST! Goes great with my setup and has the premium vibes that I needed.
White Topo Mousepad
This mousepad fit my setup perfectly. I am a laptop gamer looking to get more into pc gaming, but even small upgrades like this (well in this case large) help make my setup look really good. I eventually want a white themed setup and this is exactly what I was looking for. Thanks!
Amazing
I have used it for about a year and a half and it is still amazing
White Topo Canyon Mouse Pad
This mouse pad is amazing the only down side is that when i got it, it was more gray than white as well as it gets dirty easy but i don't care about that because i picked a white mouse pad so that always happens. Other than it being more gray it's amazing it's soft squishy and makes my desk look amazing!! will prob buy another or y'all could send me another to test 😂